E & A Wates Archive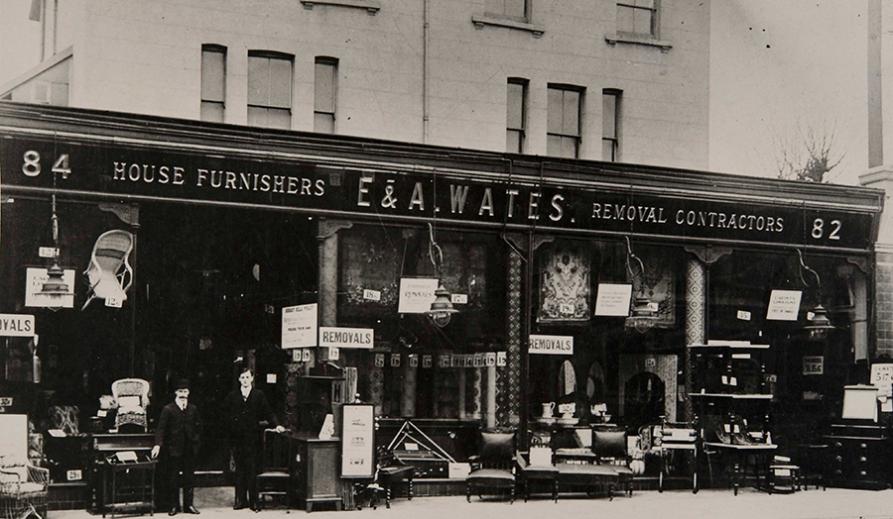 E & A Wates was a prominent and successful furniture retail company based in Streatham, in South London.
Edward Wates founded the original House Furnishing and Removals company in 1900 and was joined by his brother, Arthur, in 1902. In 1904, two younger brothers, William and Herbert - who were both engaged within the building industry - joined the company and from that point onwards house building started within and alongside the furnishing business.
The construction arm of the family business – the Wates Group - separated from the original company in 1925. It is one of the largest privately-owned construction, property services and development companies in the UK and the E & A Wates' business records are an important part of the narrative of the origin of the Group and complement the Group's own business archive.
The E & A Wates archive contributes greatly to the study of the furnishing industry and research into historic interior design, furniture restoration and furnishing practices, and at the same time preserves an important part of Streatham's local history.
E & A Wates Ltd traded until 2021 and this archive includes information about the products they sold, their domestic and important commercial client base, the three shops they traded from, J T Grosse Ltd (a company they acquired), their stands at The Ideal Home Exhibition, The Decorative Fair in Battersea Park and at other trade fairs and their work in over 30 countries, including Russia, for clients such as Shell and Hackett, as well as for domestic clients.
The collection was received by the University during the Spring of 2021 and it is currently in the process of being accessioned.
We are grateful for a grant from The National Archives which has enabled us to take in this important collection and to ensure that it is housed in appropriate conservation standard storage.